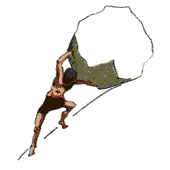 Have you ever had one of those weeks where you feel like nothing gets done because you're too busy doing things?
That's the week I'm finishing up now. We've all had to do lists that span multiple pages. We all have those days where completing the most insignificant tasks on your list seems like a Sisyphean ordeal.
The fact is, in grad school, you have to do a lot of work before the science happens. Science (*sung by a chorus of angels*) refers to whatever cool stuff you do. You know, the stuff you envisioned when you were first contemplating this journey to the PhD.
For me the cool stuff included travelling to Rwanda and India and conducting certain tests there. Both of those trips were the culmination of years of preparation for my advisor and months of preparation for me.  For some of my colleagues, the cool stuff is interacting with moms and babies, conducting specific lab tests, working with advanced computer programs, or generating some truly amazing images of spiders covered in gold.
Or this…
In other words, the cool stuff is really cool.
But stuff has to happen before the science. This is where we are today. In order to do science, we have to build up to it with mundane but necessary tasks.
This is why it is vital to create systems to help us. I classify my "mundane" tasks into two categories: Idea Generation and Organization. I have systems to streamline these tasks. I've already shared how I keep up to date with publications using Google Reader. This is one of my Idea Generation systems.
Over the next couple of weeks I'm going to go into more detail about each of the systems I use to help me be a more effective graduate student and a more sane person.
Sneak peak:
how to use Evernote to organize journal pdfs, store my notes, and create drafts of papers.
how to use Twitter (yes, really) to get information about something you know nothing about
As always, if you like what you see here, subscribe to the email list!